Tim Cook Officially becomes a Multi- Billionaire
Tim Cook, the Chief Executive Officer of multinational tech company – Apple, has joined the billionaires club as he officially becomes a billionaire.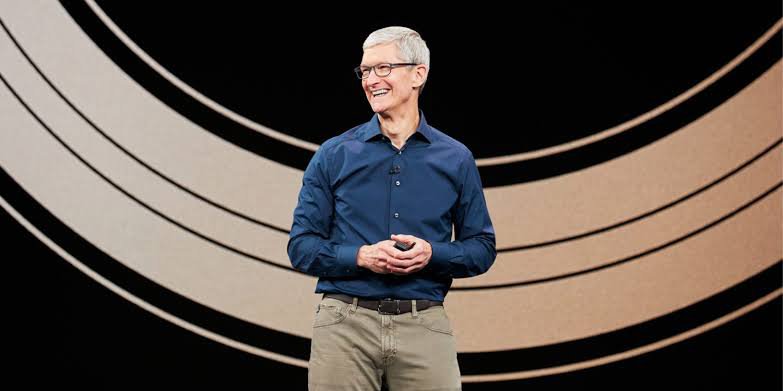 Apple's market value has been on the rise following strong results and the upbeat outlook for tech giants.
Mr Cook owns 847,969 shares directly and took home more than $125m (£96m) last year as part of his pay package.
Last week, Facebook founder Mark Zuckerberg saw his personal wealth hit $100bn (£76bn).
What You Must Know About Bank Verification Number
Technology companies including Apple, Facebook and Amazon have seen their profits grow during the coronavirus pandemic as more people went online.
Silicon-Valley based Apple is now closing in on the milestone of being the first company to be valued at $2tn. Two years ago it become the first company to be valued at $1tn.
Mr Cook took over from Apple founder Steve Jobs nine years ago. His billionaire status is based on the shares he owns and the compensation he has been paid at Apple, and calculated by the Bloomberg Billionaires Index.
In 2015, he said he planned to give most of his fortune away and has already donated million of dollars worth of Apple shares.
Facebook's Zuckerberg has made a similar pledge to give away the majority of his shares.
Mr Zuckerberg, along with Amazon's Jeff Bezos and Tesla's Elon Musk, accrued their wealth from the huge stakes in the companies they founded.
In comparison, Mr Cook's stake in Apple is minuscule at about 0.02%.
Based on US federal and state taxes for California, Mr Cook would face a tax rate of just over 50%, as a top-bracket earner.
While Apple has not revealed any new products as groundbreaking as its iPhone, the company has still thrived since Mr Cook took over the reins.
He has overseen the development of devices such as the iPhone X and Apple Watch, along with new services like Apple Music.
Trading on NGX rebounds by N3bn
By Gistflash News
Sept 14, 2021
The Nigerian Exchange (NGX) closed trading on Tuesday in green to halt the six-day consecutive bearish trend with a marginal growth of N3 billion.
The market upturn was due to investors' renewed buying interest in the financial and industrial sectors.
Consequently, the market capitalisation inched higher by N3 billion or 0.01 per cent to close at N20.278 trillion from N20.275 trillion achieved on Monday.
Also, the All-Share Index grew by 4.88 points or 0.01 per cent to close at 38,920.50 against 38,915.62 on Monday.
The market positive performance was driven by price appreciation in large and medium capitalised stocks which are; UACN, Dangote Sugar Refinery, Africa Prudential, Oando and University Press.
Analysts at Afrinvest Limited said that "In the next trading session, we anticipate a negative performance as market remains short of a positive catalyst."
However, the market breadth closed negative recording 21 losers as against 14 gainers.
UACN Property Development Company led the gainers' chart in percentage terms by 9.93 per cent to close at N1.66 per share.
Academy Press followed with 8.33 per cent to close at 39k, while Courteville Business Solutions appreciated by 7.41 per cent to close at 29k per share.
Vitafoam went up by 3.88 per cent to close at N17.40, while Livestock Feeds appreciated by 2.88 per cent to close at N2.14 per share.
On the other hand, Sovereign Trust Insurance led the losers' chart in percentage terms by 7.41 per cent to close at 25k per share.
University Press followed with 6.42 per cent to close at N1.02, while Regency Alliance Insurance shed 6.25 per cent to close at 45k per share.
UACN lost 4.85 per cent to close at N9.80, while Chams declined by 4.55 per cent to close at 21k per share.
Meanwhile, the total volume rose by 13.6 per cent to 228.48 million shares worth N1.88 billion traded in 3,376 deals.
This was in contrast with 201.10 million shares valued at N2.53 billion achieved in 3,340 deals on Monday.
Transactions in the shares of Wema Bank topped the activity chart with 46.76 million shares worth N35.97 million.
Access Bank followed with 28.24 million shares valued at N263.49 million, while United Bank of Africa sold 17.77 million shares worth N135.08 million.
Mutual Benefits Assurance traded 17.24 million shares valued at N4.88 million, while Fidelity Bank transacted 14.80 million shares worth N36.07 million.
NAN
Fidelity Bank grows PBT by 72.4% in 6 months
By Gistflash News
Sept 12, 2021
Fidelity Bank Plc has posted a profit before tax (PBT) of N20.6 billion for the six months ended June 30, 2021.
The Managing Director/Chief Executive Officer of Fidelity Bank, Mrs Nneka Onyeali-Ikpe, disclosed this in the bank's audited half-year (H1) results released to the Nigerian Exchange (NGX) Limited on Sunday in Lagos.
Onyeali-Ikpe said that the bank's PBT represented a 72.4 per cent growth when compared to N12.0 billion recorded in the comparative period of 2020.
She added that profit after tax (PAT) rose to N19.31 billion from N11.30 billion recorded in the corresponding period.
She said the growth was on the Back of Increased customer transactions and improved operational efficiency.
"We sustained our impressive financial performance with double-digit growth in profit as increased customer transactions drove non-interest revenue while improved operational efficiency continued to moderate cost-to-serve," she said.
Onyeali-Ikpe also said that the financial result for the period indicated that Gross Earnings increased by 6.2 per cent Year-on-Year (YoY) to N112.3 billion on account of 27.8 per cent growth in Non-Interest Revenue (NIR) to N23.8 billion from N18.1 billion in H1 2020.
She added that the bank's NIR was driven by strong growth in commission on banking services by 57.7 per cent, account maintenance charges by 50.6 per cent, digital banking income by 49.4 per cent and trade income by 33.7 per cent among others.
Total customer induced transactions across all distribution channels increased by 58.0 per cent YoY and 21.2 Per cent QoQ.
The bank showed a good appetite in funding the real sector with net loans and advances increasing by 15.8 per cent YTD to N1.53 billion from N1.32 billion in 2020FY.
However, the actual growth was 14.7 per cent while the impact of the currency adjustment (2020FY: N400.3/dollars-H1 2021: N410.6/dollars) accounted for a 1.1 per cent YTD growth in the loan book. Cost of risk came in at 0.3 per cent and the NPL ratio (stage 3 loans) dropped to 2.8 per cent from 3.8 per cent in 2020FY.
Other regulatory ratios remain well above the minimum requirement: capital adequacy ratio at 18.8 per cent from 18.2 per cent in 2020FY.
Total Deposits increased by 16.5 per cent YTD to N1.98 billion from N1.69 billion in 2020FY, driven by increased deposit mobilisation across all deposit types.
"Digital Banking gained further traction as we now have 55.1 per cent of our customers enrolled on the mobile/internet banking products and 89.3 per cent of customer-induced transactions were done on digital platforms."
She also explained that the bank's foreign currency deposits increased by 23.1 per cent YTD at 149 million dollars and now accounted for 18.5 per cent of total deposits from 17.5 per cent in 2020FY.
According to her, this is  as the bank continues to harness the benefits of its renewed drive in the diaspora banking space.
"We look forward to sustaining the current momentum in H2 by optimising our balance sheet and lowering our cost–to–serve.
"This will translate to improved earnings while we remain committed to our medium to long-term strategic objectives,"  Onyeali-Ikpe said.
NAN
Desist from Foreign Exchange malpractices, CBN warns commercial banks
By Gistflash News
Sept 11, 2021
The Central Bank of Nigeria (CBN) has warned Deposit Money Banks (DMBs) to always observe due diligence and desist from all forms of malpractices in foreign exchange (FX) transactions.
The apex bank gave the warning in a letter by Ozoemena Nnaji, Director of Trade and Exchange Department, addressed to the DMBs.
Nnaji urged the banks to, not only ensure to know their customers, but also to know their customers ' businesses.
She said  the directive was necessitated by recent occurrences in the FX market.
"The CBN wishes to remind all banks that it is their responsibility to not only know their customers (KYC requirements) but also know their customers' businesses (KYCB requirements).
"Given this responsibility , and in view of recent occurrences in the market, the CBN will like to remind banks to desist from all forms of FX malpractices.
"We wish to reiterate that FX operating licences of any bank or banks that are found culpable with ongoing investigations will be suspended for at least one year," the director said.
She urged all the DMBs concerned to take note and ensure compliance. (
NAN
HOW TO BUY FOLLOWERS FOR ALL YOUR SOCIAL MEDIA ACCOUNTS
Gorgeous Bride rocking one of Beyonce's Hit song