Secondary school girls who call themselves "Benefit Girls" show off their new iPhones (Video)
Secondary school girls who call themselves "Benefit Girls" show off their new iPhones
Some secondary girls, who refer to themselves as "benefit girls" have been going viral on social media after they made a video showcasing their iPhones while rocking their uniforms.
This is coming after some comedians who called themselves "Benefit boys" took to Social media to post a comic video where they resumed secondary school with a Benz and chased their physics teacher out of their car.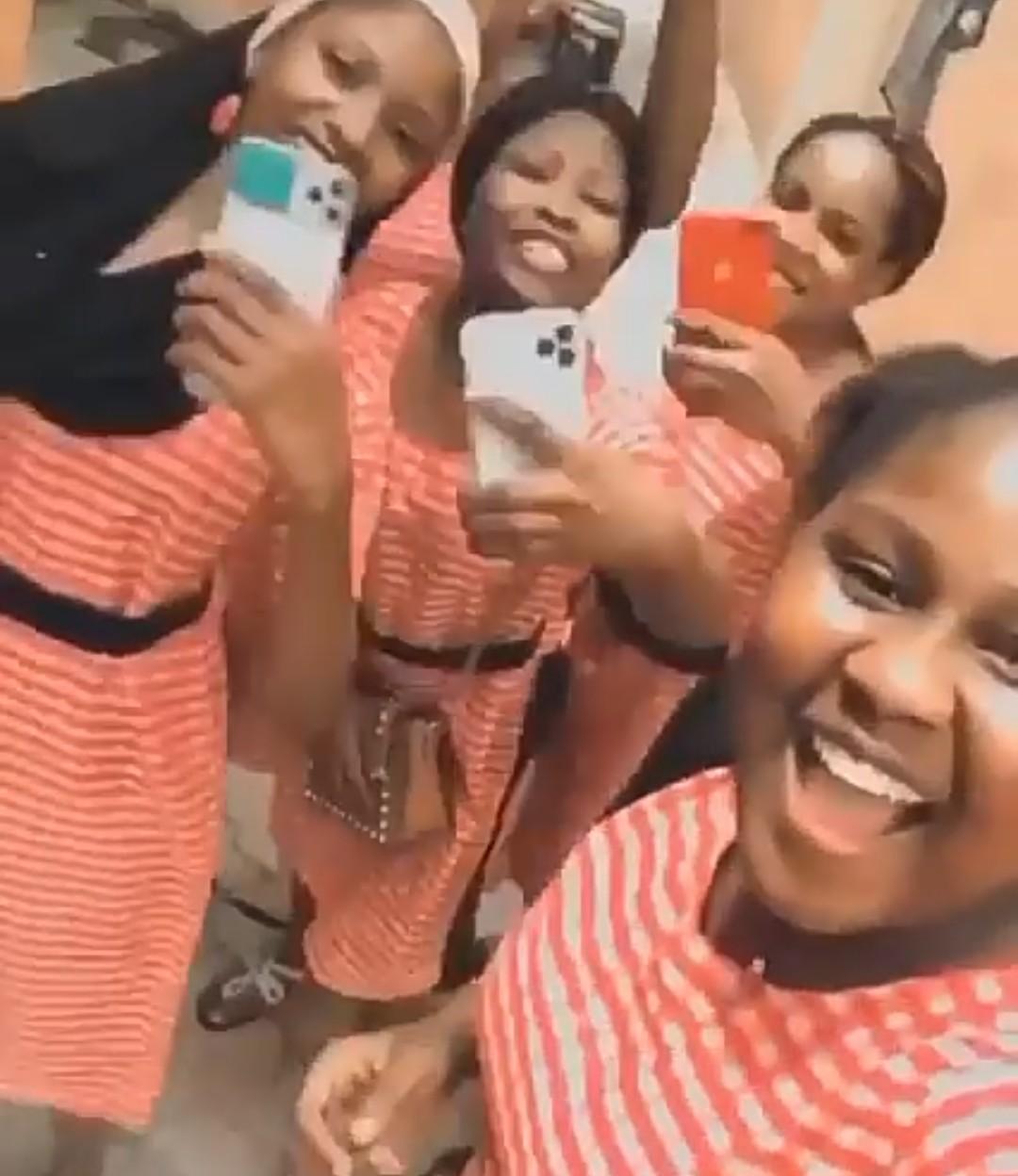 Barely a month after their video went viral, these new set of alleged "secondary school" girls have decided to thread the same path, calling themselves "Benefit girls" as they show off their newly acquired iPhones.
Burna Boy Collaborates with Sam Smith for a New Album 'My Oasis' Set to be Released Today
Syracuse University Mistakenly Sends Out Dozens of Acceptance Letters Fire Razes Popular Market in Ajman, United Arab Emirates (Video)
'I want to be a police officer to fight corruption'- boy in 'mummy calm down' video
Lady Surprises Husband with an Expensive Car (Photos/Video)
#BBNaija Day 33: The Pranks and the Highlights
#BBNaija: "I will Never Have Sex on National TV"- Prince, #Tolanibaj's Butt Lying Bare on TV
Ned Nwoko Sues Journalist for N2Billion Over Defamation of Character
#BBNaija: Praise Slams Ka3na for ignoring him during the day but coming to him at night (Video)
AdeHerself Becomes Emotional as She Opens up on her Ordeal in EFCC custody (Video)
Rebel Wilson Flaunts Her New Looks After 40 Pounds weight-loss (Photos)
Secondary School Exit Classes to Resume August 4 for WAEC Exams Starting August 17
#BBNaija: Uti Nwachukwu Apologizes for Talking Down on Laycon
In the video, the girl recording the video was heard screaming Benefit girls while they wave their iPhones in the air and make chants in Yoruba language.
Watch Video below;
Igboho was chained by Beninese police to prevent him from turning into a cat and escaping – Lawyer
One of the lawyers of Yoruba Nation agitator, Sunday Adeyemo popularly known as Igboho has narrated how his client was allegedly chained by Beninese police to prevent him from turning into a cat and escaping after being arrested at an airport in the neighboring country.
Olusegun Falola disclosed that when he got to the custody where Igboho was detained, he was first chained.
According to Falola, the police officers were scared that he could just disappear into the thin air because of his mystical powers.
"When I arrived from Paris and got to the custody where Igboho was detained, he was first chained. They were scared that he could just disappear into the thin air because of his mystical powers.

"The police told me that if Igboho's chains were untied and he escaped mysteriously, he (the police officer) would be stripped of his rank and also dismissed.

Also Read;

"The police officer said he was told that Igboho could disappear or turn into a cat, and many other things were said to the police officers which made them tie him."
He told The Nation that his timely intervention led to Igboho being unchained by the policemen.
Anglican Church releases statement after a Church Priest kissed 3 female students of St. Monica College
The Anglican Church has reacted to the viral video of one of its priests kissing 3 girls on the mouth.
The girls, who are students of St. Monica College of Education in Ghana, seemed uncomfortable but had to oblige as their priest kissed them on the altar, in front of the entire congregation.
The priest has now been identified as Most Rev'd  Dr Cyril Kobina Ben-Smith.
The Anglican Church said that it is "saddened" by the priest's action and investigation is underway.  The Church added that the "Priest would be dealt with in accordance with the norms and values of the Anglican Communion where morality is extremely revered in the Church."
The statement adds that efforts are being made to "engage the students through counselling sessions to avert any psychological issues that may arise as a result of the viral video".
 ALSO Read;
Hushpuppi: Probe panel submits amended report on Kyari
A four-man Special Investigation Panel headed by the Deputy Inspector-General of Police in charge of the Force Criminal Investigations Department, Joseph Egbunike has submitted its report to the Inspector-General of Police, Usman Baba after being directed to probe former Head, Intelligence Response Team and Deputy Commissioner of Police, Abba Kyari.
The panel was constituted after Kyari who was indicted in a $1.1m Internet fraud allegedly perpetrated by an Instagram influencer, Abbas Ramon, popularly known as Hushpuppi and four others; AbdulRahman  Juma (Abdul); Vincent Kelly Chibuzo (Kelly); Rukayat Motunrayo Fashola (Morayo); and Bolatito Agbabiaka (Bolamide), was suspended by the Police Service Commission and replaced by Tunji Disu.
Punch reported that Kyari who appeared several times before the panel, dismissed the allegations of conniving with Hushpuppi to defraud the Qatari businessman.
The publication added that the SIP sessions with Kyari were relaxed, cordial and gave the DCP the confidence that he would be absolved of the allegations as he and Egbunike have a long term relationship.
It was gathered that Egbunike is Assistant Commissioner of Police in the police Accounts Department where Kyari served for over 15 years.
A panel also told the publication that it submitted the report last week, but it was rejected by the IG for being too lenient on Kyari. A source said;
"The panel concluded its investigation and submitted its report to the IG last Thursday or Friday but the IG rejected it. He was not comfortable with the panel findings and recommendations."
Vanguard also reported that "a pre-conclusion report was submitted on Friday last week but was returned to the SIP as the Force Management Team sought more clarifications and further explanation on some grey areas."
HOW TO BUY FOLLOWERS FOR ALL YOUR SOCIAL MEDIA ACCOUNTS
Gorgeous Bride rocking one of Beyonce's Hit song