Eid-el-Kabir: DSK Fecilitates with muslims, urges selflessness, brotherliness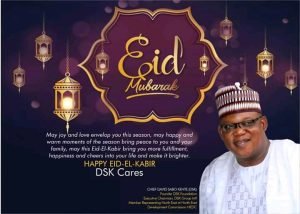 Eid-el-Kabir: DSK felicitate with Muslims,urges selfleness,brotherliness
As Muslims all over the world celebrates this year's Eid-el-Kabir, A philanthropic Chief David Sabo Kente (DSK) has felicitates with Muslim faithfuls in Taraba state and Nigeria in general task on the need to imbibe the spirit of selflessness, brotherliness and sacrifice that symbolizes the Sallah.
Kente laid the task in a Sallah message to the people of the state, on Thursday in Abuja.
While congratulating the Muslims on the celebration, the philanthropist enjoined the faithful to see the Eid-el-Kabir as a test, in commemoration of the total submission by Prophet Ibrahim (AS) to the call for sacrifice.
"This, indeed, symbolizes a call to all Muslims to live a life of selflessness, brotherhood, sacrifice and adherence to Allah's commands,"Kente Said
He pointed out that occasions such as this, calls for all Muslims to reflect on their relationship with God, as well as fellow human beings, as a guide for righteous living, love and peaceful co-existence in the society.
Kente further urged the faithful to continue to preach peace, show love, understanding, tolerance and good neighbourliness in Taraba State and Nigeria.
He used the opportunity to draw the attention of the Muslim faithful on the challenges posed by the COVID-19 pandemic, stressing the need to adhere to all preventive measures such as maintenance of social distancing, wearing of face mask, regular hand sanitizing, amongst others.
Aluta News report that
Chief David Sabo Kente, A chieftain of APC is also the Founder of DSK Foundation,
The NGO is in the forefront of providing scholarship for the less privilege, empowering widows and orphans in Taraba State.
What a dramatic fight at Ghanaian bar 'over a seat' (video)
fight reportedly broke out at a Ghanaian bar known as Bloom Bar and located in the heart of Accra over the weekend. 
A man reportedly locked horns with a woman identified as Yaa Asantewa on social media over a seat at the cocktail bar.
Eyewitnesses said the man had left his seat to meet someone outside the venue. When he got back, the lady had already taken his seat.
It was gathered that after he asked the woman to vacate the seat, it led to exchange of words which degenerated into a fight at the bar. Eyewitnesses said the lady's boyfriend intervened in the fight and took it to another level.
It took the intervention of bouncers to break up the two men and escort them out of the premises. Some bystanders got hurt while others fled the venue without paying for their drinks.
Also Read;
View this post on Instagram
Tanzanians Petition: BET Disqualify singer, Diamond Platnumz from this year's Awards
A section of Tanzanians on Twitter have launched an online petition to have singer, Diamond Platnumz disqualified from the 2021 BET Awards.
The Tanzanian music star was nominated in the best international act category alongside other African heavyweights.
The petitioners accused Diamond of  'actively and publicly supporting deceased Magufuli's regime', but remaining silent when fellow Tanzanian artists were imprisoned and abducted in 2017-2018 over video clips deemed obscene by the authorities. Over 17,000 people have signed the petition.
This is a call to BET Awards hosted and produced by Black Entertainment Television (BET) to disqualify Diamond Platnumz

Diamond Platnumz is a world-renowned Tanzania music artist who used his popularity and his talent to whitewash and deodorize the brutal repression of the late dictator John Magufuli and his regime. Diamond is also a close friend and business ally of Paul Makonda the former Governor of Dar -es-Salaam who has openly persecuted and cracked down on LGBTI people. Makonda has also been designated in 2020 by the US State Department for gross violations of human rights including cracking down on freedom of expression and association.

Context:

Tanzania has suffered brutal repression and roll back of democracy since 2016 when (late) President Magufuli ascended into power. His regime curtailed democratic freedoms, basic human rights and Tanzanians witnessed never-before experienced atrocities like enforced disappearances, bodies bound and gagged washing ashore the Indian ocean, mass illegal detention of opposition politicians, critics and businessmen, crackdown on independent media, intimidation of creative people including musicians, actors and comedians. A particularly shocking event has been the brutal gunning down of opposition legislator Tundu Lissu in broad daylight. Lissu survived with 16 bullets in his body to tell his story. He is currently living in exile in Brussels, Belgium.

In 2020, Magufuli ran for re-election under his party Chama cha Mapinduzi (CCM) . Mr Lissu risked his life and returned to run against Magufuli under his party's ticket – CHADEMA. The election was marred with irregularities, violence including killing of innocent civilians by forces acting for or on behalf of the regime. In the immediate aftermath of the election, Magufuli and his henchmen arrested the leaders of the opposition party and threatened them with treason charges. Some opposition leaders saw family members killed. Today several opposition leaders live in exile, while hundreds still languish in jail on trumped up charges.

Magufuli was also a rabid COVID19 denier whose repeated refusal to follow internationally accepted guidelines on prevention and treatment of COVID19 resulted in many deaths that remain undocumented to date due to the refusal of the government to publish any figures related to COVID19 since May 2020.

ALSO READ;

Diamond Platnumz's role:

In 2016, Diamond made Paul Makonda the Patron of his music label and media company called Wasafi. Makonda has used the Wasafi Festival for publicity and to sanitize his image. Also throughout the increased level of repression when fellow artists were imprisoned and abducted Diamond remained silent. In 2017, he deliberately released a single called "Acha Nikae Kimya" (Let me remain quiet) as a response to the increasing demand from the public to speak up and condemn the crackdowns. Diamond to-date has not condemned or spoken up on any of the atrocities committed.

Diamond Platnumz is a self-avowed CCM party member and was the lead musician for the CCM campaign in 2015 and 2020. In 2020 despite a huge outcry locally and internationally against Magufuli and his regime, Diamond endorsed this brutal dictator, dedicated a song to him ("Magufuli Baba Lao") and several times took to stage with him during campaign. In October 2020 during the #EndSARS protest in Nigeria, Diamond tweeted solidarity with Nigeria but deliberately chose to remain quiet on the atrocities happening in Tanzania during the elections.

After the BET Awards 2021 nomination for best international act, Diamond took to the media and spoke disparagingly of activists, then paid a visit to his party's headquarters CCM whereby his nomination was hailed as some sort of achievement for the party and the nation.

Why Diamond should be disqualified:

Diamond Platnumz has failed to show basic concern and publicly express any solidarity with his fellow artists like Roma Mkatoliki, Nay wa Mitego and Idris Sultan who suffered at the hand of the dictator Magufuli.
 Diamond Platnumz chose to protect and expand his personal and business interest by praising and using his star power to soften the image of a brutal dictator and his collaborators.
BET awards have been always held in high esteem by many Africans for its recognition of talent of exemplary artists. The international act which was established in 2018 has consistently gone to artists who have been very conscientious and stood up for justice for African lives. Both Davido (2018) and Burna Boy (2019 and 2020) have been in the frontline at the #EndSARS protests using their star power and fame to shed light on injustice and even protect civilians from police brutality. Diamond Platnumz is a selfish, greedy opportunist and an apologist of a repressive regime who chose to deliberately turn a blind eye to atrocities and associate, praise and collaborate with renowned human rights violators like Paul Makonda and John Magufuli.

We believe that once BET independently verifies these facts, it will be clear that Diamond Platnumz does NOT deserve ANY recognition in these prestigious awards.
Nigeria marks World Culture Day Thursday
By GistFlash News
May 25, 2021
Nigeria will on Thursday join the rest of the world to mark the World Day for Cultural Diversity for Dialogue and Development.
The day, also known as World Culture Day, was set aside by UNESCO to raise awareness every year on the role of culture in ensuring sustainable socio-economic growth and development.
The News Agency of Nigeria (NAN) reports that the day also provides a veritable platform to celebrate culture's manifold forms  as well as an opportunity to reflect on how these contribute to dialogue and mutual understanding.
NAN reports that Nigeria, through the Ministry of Information and Culture, is celebrating the day with the theme: "Cultural Diversity in the COVID-19 Era."
A road walk to sensitise residents of Abuja would hold on Wednesday while the World Culture Day Celebration would take place at the National Press Centre, Radio House, Abuja, on Thursday.
HOW TO BUY FOLLOWERS FOR ALL YOUR SOCIAL MEDIA ACCOUNTS
Gorgeous Bride rocking one of Beyonce's Hit song