CSO Urges #EndSARS Protesters to End protests or risk Backlash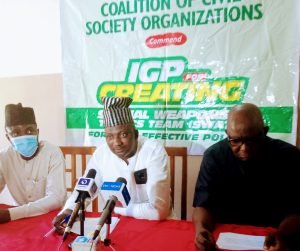 CSO tells #EndSARS protesters to end protests or risk backlash
The Coalition of Civil Society Organisation (CSO) for Good Governance has appeal to #EndSARS protesters to end the protest now that the ovation is at its loudest.
According to Aluta News, The group made the appeal during a press conference in Abuja on Sunday
Comrade Olayemi Success, Chief Convener of the coalition, said that the appeal is in response to the continued #EndSARS protest in Nigeria despite the fact that the five point demands had been accepted and approved by the federal government
'I want to be a police officer to fight corruption'- boy in 'mummy calm down' video
2 Men Hacked themselves to Death over Woman
NYCC-19 Sets up Structures in States for Better Results
NAF Opens Investigation Into Flying Officer's Death, Two Suspects Arrested
House of Reps Probes North East Development Commission Over the Misappropriation of '₦100 Billion in 1 year
Wikipedia Lists Nigeria Among the "Failed States"
Tertiary Institutions in Lagos State to Re-open on September 14th – Governor Sanwo-Olu
"The entertainment industry must be allowed to gradually get back in business!!"- #Falz
NYCCOVID-19 Begins Nation-Wide Training for Nigerian Youth to access CBN – NIRSAL Bank N10 Million Naira Loan
Effective Youth Engagement in Electoral Process Amidst Covid-19
He said that indicators show that the protest has been hijacked by vested interests hence the latest violent trend resulting to loss of manhour due to deliberate road blocks by the protesters
The Convener said that the protesters may loss credibility and acceptability of well meaning Nigerians if the protest persisted and therefore reminded them to understand that their right to protest ended where others' right to enjoy peaceful atmosphere, devoid of road blocks, commences.
The group also appealed for urgent resolution of Academic Staff Union of Universities (ASUU) issues with the Federal Government so that students could go back to school
They emphasised that idle minds were devil's workshop, and regretted that 70% of the protesters are students and being used by vested interests for their selfish purposes.
The Convener commended the Inspector-General of Police, the Nigeria Police Force and other security agencies for their professional conduct in managing the protest.
Comrade Success appealed to Nigerians to continuously give the much needed support and cooperation to the Nigeria Police Force to enable the force attain its mandate of securing lives and properties
He emphasized that the security agencies deserved the support and appreciation of the citizens as they had discharged their responsibilities creditably.
Gistflash reports that the protesters have taken to the streets, press and government, among other demands, disband the Special Anti-Robbery Squad (SARS) unit of the Nigeria Police Force.
They also demanded for reforms of the police force.
The Inspector General of Police, Muhammad Adamu, had since disbanded the force, with President Muhammadu Buhari saying that more reforms were on the way toward a better police force.
The protestors have, however, continued the protests in spite of the response, forcing many Nigerians to suspect that they were nursing a secret deadly agenda.
when it started, the major demands were
1. Immediate release of all protesters
2.Justice for all decease victims of police brutality and compensation
3. Setting up of independent body to oversee the investigation and prosecution of all report of police misconduct
4. Psychological evaluation and retraining of all disbanded SARS officers before redeployment
5.Increase police salary so that the can be adequately compensated for protecting lives and properties of citizens
The Federal government had approved the five demands and directed state government to set up panel of enquiries towards addressing them
Army holds 40-Day prayer for late COAS Attahiru, others
By Gistflash News
June 30, 2021
A 40-day prayer was observed for the repose of the soul of late Chief of Army Staff (COAS) Lt,-Gen. Ibrahim Attahiru and other officers who died in the ill-fated Beach Craft King Air 350 crash in Kaduna on May 21.
Others are the Chief of Military Intelligence, Brig.-Gen. Abdulrahman Kuliya, Army Provost Marshal, Brig.-Gen. O.L Olayinka, Chief of Staff to Army Chief, Brig.-Gen. Idris Abdulkadir, Aide De Camp, Maj. L.A Hayat, Maj. M. Hamza, Flt.-Lt. T.O Asaniyi, Flt.-Lt. A.A Olufade, Sgt. Saidu Umar, Sgt. Adesina and Air Craftman Oyedepo.
The prayer was led by the Army Director of Islamic Affairs, Brig.-Gen. Shehu Mustapha.
Mustapha prayed for the souls of the departed to find eternal rest and also console their families.
He said that Nigerians should understand that every soul must taste death at some point, hence the need to always live right with God.
Mustapha said that the significance of the prayer was to remember the departed Chief of Army Staff and other officers who died with him as well as seeking Allah's forgiveness.
He said that the event was also used to pray for peaceful co-existence among Nigerians and for God to grant victory to the troops fighting in various fronts.
"We also used the opportunity to pray for their families, our service chiefs and all Nigerians for peaceful coexistence.
"We also sought God's intervention in the security challenges that we are facing and we asked him if it is sin that we have committed that is making us to have difficulties, we asked him for mercy and forgiveness.
"We used this opportunity to pray for our leaders for Allah to continue to protect them and give them divine guidance to move the country forward," he said.
Also speaking, Chief of Army Staff, Maj.-Gen. Faruk Yahaya, said it was solemn to pray for the repose of the soul of the late army chief and other officers who died in the unfortunate crash.
He said that the prayer was to show that the departed souls were still in their minds and to continue to identify and sympathise with their families.
According to him, the prayer is for them and all other military and civilian personnel who have paid the supreme price in the course of defending the nation.
"We also prayed for the country, the military and all other agencies that are fighting for the nation's security and we pray for Allah to answer our prayers," he said.
The News Agency of Nigeria (NAN) reports that the Chief of Defence Staff, Gen. Lucky Irabor, Chief of Naval Staff, Vice Adm. Hamza Gambo and Chief of Air Staff, Air Marshal Isiaka Amao and other top military officers attended the event.
Also in attendance were the wives of officers led by the President, Defence and Police Officers Wives Association (DEPOWA), Mrs Victoria Irabor.
NAN
LASG arrest popcorn seller over attack on officials
By Gistflash News
June 30, 2021
Lagos Environmental Sanitation Corps (LAGESC) has arrested a popcorn seller (name withheld) for allegedly attacking its officials on Tuesday while carrying out their official duties.
The LAGESC Corps Marshal, Mrs Gbemisola Akinpelu, a retired Commissioner of police, disclosed this on Tuesday in a statement released by Kehinde Adebayo, Head of Public Affairs of the Agency.
Akinpelu, who described the suspect as 30 years old street trader, said he was apprehended at about 12:30 p.m. on Tuesday, around Railway Crossing, Fagba, in Ifako-Ijaye Local Council Development Area, during official patrol.
"The suspect said to be hawking popcorn, upon sighting the Agency's operatives brought out dangerous weapons such as knife (dagger) and charms to attack the operatives.
"He was eventually subdued and brought to the Agency's Headquarter for subsequent investigation.
"The suspect has been handed over to the police for further investigation and prosecution to serve as deterrent to others," she said.
Akinpelu condemned the incessant attacks on the agency's personnel who were out to discourage illegal street trading in the State.
She noted that such attacks had inflicted serious injuries on the officials, stressing that sometimes, such attacks lead to loss of live of an officer.
The Corps Marshal reiterated the agency's commitment to rid the State of all environmental nuisances, such as street trading and hawking on the major highways.
She warned the public against any form of attacks on her operatives carrying out official duties to ensure the general cleanliness of the State.
Akinpelu, however appealed to market leaders and transport unions to partner with the Agency in the discharge of official duties.
NAN
FG apprehends Nnamdi Kanu, leader of proscribed IPOB – Malami
By Gistflash News
June 29, 2021
The Attorney-General of the Federation and Minister of Justice, Mr Abubakar Malami (SAN), has said  that the self acclaimed leader of the Indigenous People of Biafra, (IPOB) Nnamdi Kanu has been apprehended by operatives of Nigeria's security intelligence.
Malami announced this on Tuesday in Abuja at a joint  press briefing with the Inspector-General of Police, Mr Usman Alkali.
"The self-acclaimed leader of the proscribed secessionist Indigenous People of Biafra (IPOB), Kanu, has been intercepted through the collaborative efforts of Nigerian Intelligence and Security Services.
"He has been brought back to Nigeria, in order to continue facing trial after disappearing, while on bail regarding an 11-count charge against him.
"Recent steps taken by the Federal Government saw to the interception of the fugitive Kanu on Sunday the June 27.
"He was standing trial on charge of felony, managing an unlawful society, publication of defamatory matter, illegal possession of firearms and improper importation of goods, among others."
Kanu was granted bail in 2017 by Justice Binta Nyako of  the Federal High Court, Abuja but having jumped bail, Nyako, on March 28, 2019, revoked his bail that was granted him on health grounds and issued a bench warrant for his arrest.
Malami said that  upon jumping bail, Kanu had been accused of engaging in subversive activities that included inciting violence through television, radio and online broadcasts against the Nigerian state and institutions.
"Kanu was also accused of instigating violence especially in Southeastern Nigeria that resulted in the loss of lives and property of civilians, military, para military, police  and destruction of civil institutions and symbols of authorities."
Malami said that Kanu had been taken to the Federal High Court to continue his trial.
The News Agency of Nigeria (NAN) recalls that Kanu was arrested on Oct. 14, 2015 and arraigned by the Federal Government on an  with  11- count charge  bordering on terrorism and treasonable felony.
Meanwhile there was tight security at the Federal High Court as Kanu was brought to court to continue his trial.
In a short proceeding, counsel to the Federal Government, Mr Shuaibu Labaran prayed the court to remand Kanu in DSS custody, a request which the judge, Justice Binta Nyako granted.
Nyako adjourned the matter until July 26 and personnel of DSS sneaked Kanu out of the court premises.
NAN
HOW TO BUY FOLLOWERS FOR ALL YOUR SOCIAL MEDIA ACCOUNTS
Gorgeous Bride rocking one of Beyonce's Hit song