Biden pitches 'once in a generation investment' to Congress (Video & Highlights)
Delivered on the eve of his 100th day in office, the Democrat pitched some $4 trillion (£2.9tn) in spending – the largest overhaul of US benefits since the 1960s, analysts say.
He called it a "once in a generation investment in America itself".
But the plans face a battle in Congress before they can become law.
There has been widespread opposition to the proposals from the Republican Party, which is unlikely to back tax increases and more government spending.
And while there is a slim Democratic majority in both houses, there has been division among the party over how far to go with the plans.
In a historic moment, US Vice-President Kamala Harris – the first woman to hold that office – and House of Representatives Speaker Nancy Pelosi both sat behind Mr Biden during Wednesday night's address. It was the first time two women appeared behind the president during a speech to Congress.
After addressing Ms Harris in his opening remarks as Madam Vice-President, Mr Biden added: "No president has ever said those words from this podium. And it's about time."
What did Biden propose?
The 78-year-old president, buoyed by solid approval ratings, presented the American Jobs Plan and the American Families Plan. The White House said the proposals would be funded by tax raises on corporations and the wealthiest Americans.
"It's time for corporate America and the wealthiest 1%… to pay their fair share," Mr Biden said at an event that was scaled back due to the pandemic.
He described the American Jobs Plan as "a blue-collar blueprint to build America" that would boost investment in public transport, high-speed broadband and roads and bridges. He added that the plan would be guided by the fight against climate change.
"When I think climate change I think jobs," he said. "There's no reason why American workers can't lead the world in the production of electric vehicles and batteries."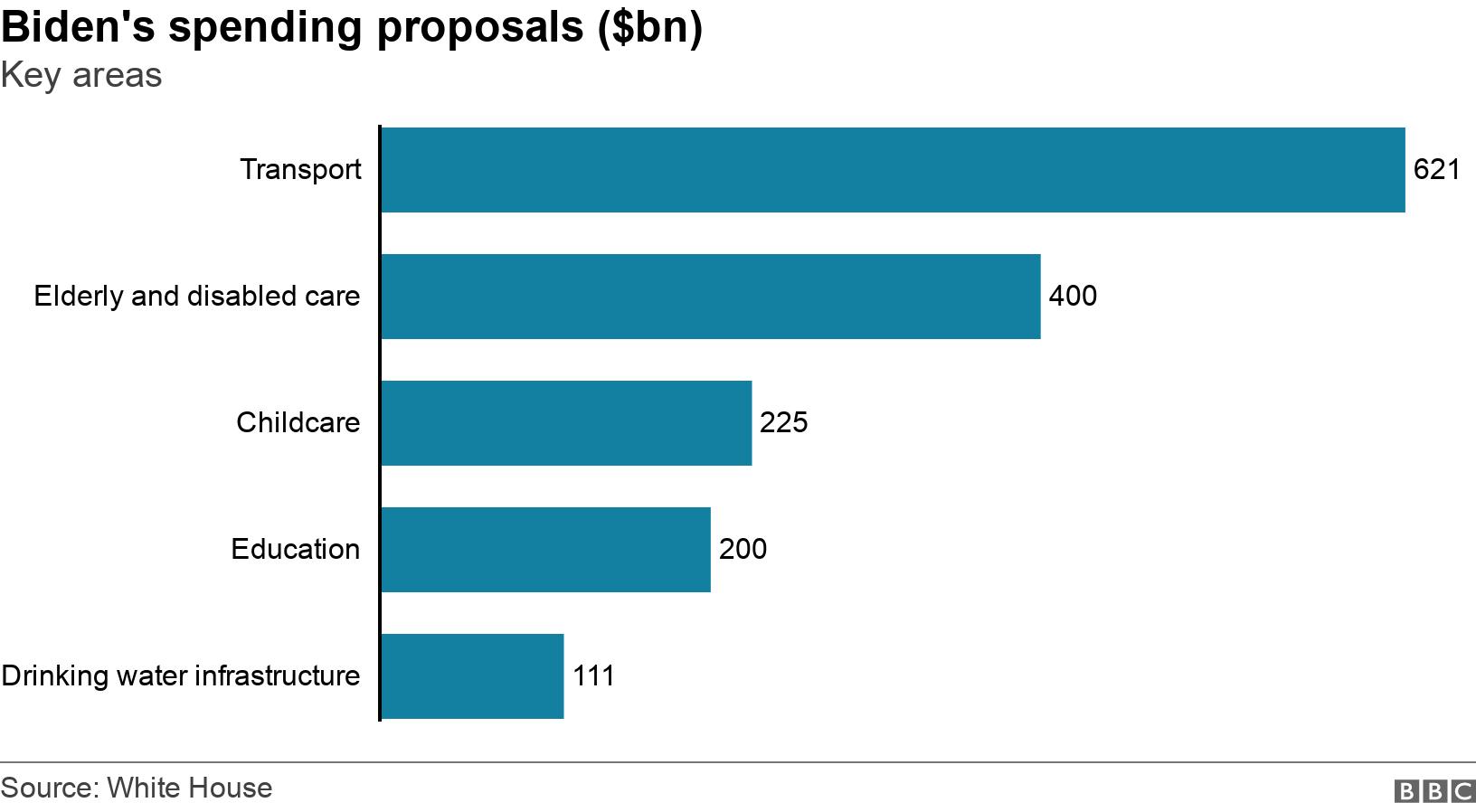 He said the $1.8tn American Families Plan, meanwhile, would focus on children and seek to provide:
Free pre-school for children aged three to four
Paid family and medical leave as well as health insurance subsidies
Tuition-free community college for all
An extension of key tax breaks that have been expanded during the pandemic
The proposal follows the so-called American Rescue Plan, a $1.9tn coronavirus stimulus package that included direct cheques to most Americans, which Mr Biden signed into law last month.
On Wednesday, he framed these latest proposals in the context of foreign policy and said the US was "in a competition with China and other countries to win the 21st century". He also called for politicians from both parties to back his plans and said he was willing to work with both sides.
Joe Biden's speech to Congress started as a victory lap and ended with a warning.
He began by touting what has been by all accounts a very successful rollout of vaccinations in the US, paving the way for a return to some semblance of normalcy in the months ahead. He boasted of hundreds of thousands of new jobs created in his first 100 days and a growing economy. He touted recently passed funding that will help cut child poverty in the US in half.
That was all a set-up, however, for the president's pitch for more – more spending and more action from Congress. He proposed a trillion-dollar package of universal pre-kindergarten, two years of free college education, family leave and childcare funding. He called for legislation on gun control, immigration, criminal justice reform and voting rights.
He concluded, however, by turning to the 6 January attack on the US Capitol and the threat posed to democracy by the world's autocratic nations.
He assured the nation that the US will prevail. His ending, however, seemed designed to create a sense of urgency – one that, perhaps, he can harness to achieve the ambitious agenda he set out on Wednesday night.
The Republicans' Response
Republican National Committee (RNC) Chairwoman Ronna McDaniel said Mr Biden's first 100 days in office were "an unqualified failure", accusing him and his party of "hyper-partisanship".
"In his inaugural address, Biden called for unity. That was a lie, and our nation is worse-off and more divided thanks to Joe Biden," her statement read.
The top Republican in the House, Kevin McCarthy, was more concise. "This whole thing could have just been an email," he wrote on Twitter.
Senator Tim Scott – a possible contender for the White House in 2024 and the only black Republican senator – followed Mr Biden's speech with the traditional rebuttal from the opposition party.
He said the proposals would "lower wages of the average American worker" and dismissed them as a "liberal wish list of big government waste".
Mr Scott then discussed racism in America, accusing Democrats of wanting "the issue more than they want the solution".
"America is not a racist country. It's backwards to fight discrimination with different types of discrimination and it's wrong to try to use our painful past to dishonestly shut down debates in the present," he said.
Please follow and like us:
Public, private investments critical in transforming Africa's food systems – Osinbajo
By Gistflash News
July 27, 2021
Vice President Yemi Osinbajo says transforming Africa's food system is an obvious task requiring the active mobilisation and prioritisation of both public and private investments.
Osinbajo's spokesman, Laolu Akande, in a statement on Tuesday in Abuja, said the vice president virtually spoke at the preparatory meeting of the United Nations Food Systems Summit 2021.
The pre-summit is a prelude to the global event scheduled for Rome, Italy, in September; an event the vice president described as crucial just as the previous dialogues held in several countries on food systems.
He said that the Federal Government was committed in complementing existing development plans, sectoral strategies, and prioritising investments in specific innovations and technologies to transform food systems in the country.
"The Nigerian Government is committed to addressing the drivers of food insecurity such as food inflation, changing consumption patterns and climate change, amongst other things.
"At the same time and as an outcome of 40 different food systems dialogues in which up to 5,000 people participated, Nigeria is prioritising investments in specific innovations and technologies to scale up and transform food systems.
"These actions complement existing development plans and sectoral strategies such as our Economic Recovery and Growth Plan, the National Policy on Food and Nutrition, and the National Policy on Food Safety.
"A specific aim of our recently launched National Poverty Reduction with Growth Strategy is to address hunger, malnutrition and poverty as part of our target of lifting a hundred million Nigerians out of poverty within a decade."
Osinbajo added that at the heart of Nigeria's post-COVID-19 response was the Economic Sustainability Plan.
He said that the plan had a major component, which is the Agriculture for Food and Jobs Programme (AFJP), where the country sought to leverage suitable technologies to build a resilient food system for Nigeria.
"Our Nutrition Policy addresses the issues of sustainable and nutrition-sensitive food systems – and the country has prioritised key nutrition actions that are impactful, cost-effective, scalable and sustainable.
"An integral part of our food systems' transformation strategy is to create an enabling and supportive environment to implement these policies in a participatory manner involving farmers, investors and state governments.
"For example, when, as in our country and several others, population growth exceeds growth in national income, food supply would not meet the needs of people, especially when distribution systems are inequitable."
According to him, post-harvest losses in Africa, and particularly in Nigeria, are more than 20 per cent of production for several food groups.
He said the losses were mainly due to poor storage, poor rural infrastructure and non-automation of food processing, among others.
"The situation in many African countries is given increased urgency with the impact of the COVID-19 pandemic, which has led to growing levels of acute food insecurity.
"This is of great concern to all of us, especially if we recall that prior to the pandemic, the prevalence of severe food insecurity was as high as 22 per cent," he said.
Earlier in her remarks, the UN Deputy Secretary-General, Amina Mohammed, commended Nigeria's effort, especially the vice president, for leading six ministers in the dialogues and other efforts aimed at building sustainable food systems in the country.
"Food unites us all, as families, as communities, as cultures and as humanity, now let's use it to unite around the urgency and the actions that are needed to transform our world by 2030," she said.
Aside Osinbajo and Mohammed, participants at the second day of the preparatory meeting included the Prime Minister of Italy, Mario Draghi; Nigeria's Minister of Finance, Budget and National Planning, Hajia Zainab Ahmed; and ministers representing India, Canada, China, Norway, Egypt, among other countries.
NAN
Please follow and like us:
2021 Children Golf Development Clinic begins Monday in Abuja
By Gistflash News
July 23, 2021
The 2021 edition of the Children Golf Development Clinic, being organised by the Ladies Section of IBB International Golf and Country Club in Abuja, begins on Monday at the club.
The event's Organising Committee Chairman, Joy Ikwue who is also the club's Vice Lady Captain, disclosed this on Friday to the News Agency of Nigeria (NAN) in Abuja.
"The two-week event tagged `Future Champions of Golf' is being put together by the club's Ladies Section and it is part of efforts to raise the level of the sport by the Executive Committee led by Lady Captain MaryRose Richard-Obioha," she said.
Ikwue disclosed that top Nigerian professional golfers would also be available at the clinic which ends on Aug. 6 to offer life skills training to the children and youths.
"This is with a view of not only integrating them into the game but the society in general.
"Golf is a game of rules and in as much as there will be many rules for the children to learn, we will also want them to know about service to humanity, country and fellow golfers."
Ikwue stated that more than 70 children and teenagers, whose ages range from five to 18, have so far registered and the organisers believed that more are still coming.
She added that the club's ladies have traditionally always arranged this summer development clinic for over a decade now.
"The section has tried to sustain the developmental programme with the aim of discover potential young golfers.
"This is because the clinic is to catch them young and groom them so as to become assets for their parents and Nigeria as a whole."
Ikwue however lamented the difficulties in getting sponsors as some of the letters sent out did not receive any response.
She nonetheless thanked the Nigeria Content Development and Monitoring Board, Rotary Club, as well as members of the club for their support.
NAN
Please follow and like us:
Workers' welfare: FG to ensure implementation of projects
By Gistflash News
July 22, 2021
The Federal Government on Thursday, expressed its commitment to the effective implementation of projects that would improve the welfare of civil servants in the country.
Dr Folasade Yemi-Esan, the Head of Civil Service of the Federation (HCSF), said this at the inauguration and handing over of erosion/flooding control, and road improvement work at Ama Pepple Public Servants' Estate, FCT.
Yemi-Esan said that the project was one of the 7th ecological interventions, approved by President, Muhammadu Buhari, for 3rd and 4th quarters of 2019.
She said that the government had in pursuance of this goal, also implemented a project named the Federal Integrated Staff Housing (FISH) programme.
The HCSF explained that the FISH Programme was designed to provide quality and affordable housing for public servants, in line with the Federal Government's Housing Policy.
According to her, the government is working assiduously to make the lives of public servants better.
"We are also working to provide critical infrastructure in estates built for civil servants under the FISH project.
"Necessary action has been taken to reposition the FISH programme. So, we are working very hard to ensure that public and civil servants live in comfortable homes.
"The Federal Government is determined to pursue and implement projects aimed at ensuring the wellbeing of citizens, and also looking for better opportunities for economic growth of the country,'' she said.
Yemi-Esan, however, implored residents of the estate to cherish the project by desisting from indiscriminate dumping of refuse, in order to ensure its sustainability.
"Having successfully completed this project, the living standard of the residents will be enhanced. This will also reduce dangers of erosion and persistent flooding that had been experienced here in recent times.
"The execution of projects across the country also demonstrates the sincerity of purpose by the present administration towards entrenching justice, equity and fair play to all and sundry,'' she said.
She commended Ecological Fund Office (EFO), the project contractor; Diamond Global Engineering Investment Ltd and the project consultant; Enplan Group Ltd, for their doggedness in ensuring speedy completion of the project.
Dr Habiba Lawal, the Permanent Secretary of EFO, said that the project was initiated through a request for an urgent intervention, forwarded to the EFO by the Chairman of the estate.
Lawal said that the request was to arrest the continued erosion, flooding and other ecological challenges, as well as to prevent further environmental degradation, loss of lives and properties in the estate.
She said that the completion of the project was made possible through the efforts of the project contractor and consultant, which worked tirelessly to ensure that minimal time in the project implementation was achieved.
Dr Gaga Ali, the Chairman of the estate, who spoke on behalf of the residents, thanked the Federal Government and EFO officials for their effort sin making sure that the project was duly implemented.
Ali appealed to the government to construct an access road to the estate, as according to him, each year residents repair the road, it deteriorates due to erosion.
Also, Alhaji Mohamed Bello, the Managing Director, Diamond Global Engineering Investment Ltd, said that the job was to be executed within six months, but was completed in four months.
Bello said that the project was executed during the rainy season, and that in spite of the horrible state of the road and the season, the contractors were able to ensure the delivery of a quality project.
NAN
Please follow and like us:
HOW TO BUY FOLLOWERS FOR ALL YOUR SOCIAL MEDIA ACCOUNTS
Gorgeous Bride rocking one of Beyonce's Hit song